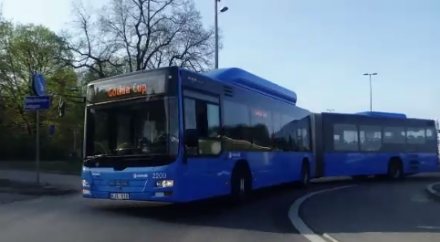 TBILISI, DFWatch–Tbilisi is buying 143 new natural gas powered buses that are more environmentally friendly and accommodating to people with disabilities. But the ticket price will remain the same, City Hall assured us.
The new 30-seat German-made 'Man' buses, which will begin trawling the city already in September, have less harmful emissions and are less of a nuicanse compared to today's diesel buses. That's because they run on compressed natural gas (CNG), which has lower carbon emissions and less of the black smoke and bad smell associated with diesel engines.
A spokesperson for City Hall assures us that the ticket price will remain the same. The new buses will be painted in the color blue, setting them apart from today's yellow buses.
The bus park will be renewed with 143 new buses within the next seven months. The process of renewing the bus park will follow a four year, USD 34 million plan, after which all the old yellow buses will be replaced by new ones. The European Bank for Reconstruction and Development (EBRD) contributed a USD 27 million loan and a USD 7 million grant to the program.
Tbilisi Transport Company told DFWatch that there are currently 672 buses servicing the capital. 524 of them are smaller ones, 7.43 meters long, which accommodates 43 passengers with 21-22 seats, the rest are 9.82 meters long and able to accommodate 80 people with 31 seats.
The new buses are considerably longer than the largest ones used today: They are 12 meters long and have 30 seats and are approved for carrying 85 passengers. It is still unknown what routes these new longer buses will drive. Information about this will be available as soon as the first blue buses start to operate.
German manufacturer Man Truck and Bus AG signed the contract on Tuesday after winning a tender organized by City Hall.