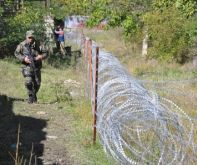 TBILISI, DFWatch–In and around the Georgian breakaway region South Ossetia, disagreement over a de facto border may place further burdens on ordinary people around the time of the Winter Olympics.
The reason is that the region's border guards are tightening security ahead of the Sochi Olympics, which opens on Friday, and as a consequence, people who live inside the region but want to cross over to Georgia proper for medical treatment will find it harder to do so.
This was decided when de facto president Leonid Tibilov met with the Security Council, or KGB, of the region on Tuesday to weigh the concern for tighter security against people's need to get treatment in Georgian clinics.
RES, the news agency run by the South Ossetian de facto Foreign Ministry, reported that law enforcement bodies under Tskhinvali control have been instructed to take measures in order to strengthen the protection of the border, which Georgia does not recognize, and conduct monitoring to ensure a prompt response to attempts at violating it.
"Heads of the relevant departments have also been instructed to strictly control the movement of citizens of the Republic of South Ossetia for examination and treatment in Georgia," RES reported.
The South Ossetian KGB was recommended to redirect patients for treatment to Russia and only allow them to go to Georgia if their life is in danger, when transport to Russia is not possible or if medical personnel advise so.
Georgia's Health Minister Davit Sergeenko responded that tens of people per month have come from South Ossetia to Georgia for medical treatment and that they are being financed by the state. He thinks the new restrictions may endanger the lives of patients.
As terror fears loom ahead of the Sochi Olympics, the South Ossetian KGB's further tightening of security along a de facto border threatens to make life even harder for civilians in the area. The border has been enforced by Russian soldiers since the Russo-Georgian war in 2008, but only about a year ago began to be delineated with harsh measures like razor wire bundles, sometimes cutting through inhabited areas or grazing lands.
The borderization is already causing serious disruption of people's lives. Political signals from Tbilisi, and the European Union's observers mission EUMM, is that this is not a real border, and many civilians wander across and become incarcerated in Tskhinvali detention centers.
In January 2014, there has been a fifty percent increase in such 'border' detentions, RES reported.
"In January last year 21 people were detained for violation of the state border, and in January of this year 31," said Sergey Korbin, head of the KGB's border guard service.
Negotiations over the release of such detainees is a staple of the regular field meetings between Georgia and Tskhinvali hosted by the EUMM.