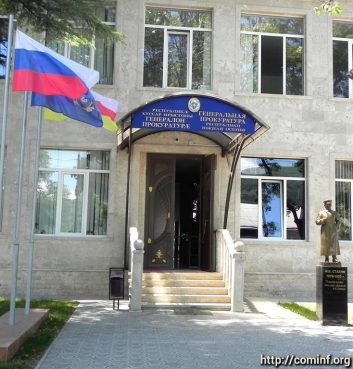 TBILISI, DFWatch–South Ossetia's de facto authorities still refuse to hand over the body of a former Georgian soldier who died after what appears to have been physical abuse by prison guards, and has instead repeated allegations that the 2008 war was a 'genocide' against Ossetians.
35 year old Archil Tatunashvili, a former member of the Georgian military, was detained in Akhalgori on February 22. He was taken to Tskhinvali and died the same night under suspicious circumstances.
Georgian authorities demanded the body be handed over to perform an independent autopsy, but Tskhinvali refused. Under increasing international pressure, South Ossetia's de facto chief prosecutor on Friday reiterated accusations that the deceased was involved in a 'genocide' against Ossetians, a term previously used by the de facto authorities to refer to the 2008 Russo-Georgian war.
Apparently to deflect attention from the growing international pressure, a representative of the office said that altogether 45 Georgian nationals are wanted by the Tskhinvali regime. The list includes former president Mikheil Saakashvili, former interior minister Vano Merabishvili and former defense minister Irakli Okruashvili, as well as Archil Tatunashvili and others. The full list is not available.
They are accused of killing 162 people and wounding 700 during and prior to the 2008 war.
Tatunashvili was confirmed dead February 23, but Tskhinvali said the cause of death was heart failure after he was taken to hospital with injuries allegedly sustained during a confrontation with prison guards.
Georgian authorities have received support in its call to hand over the body from a range of international organizations, including CoE and OSCE, as well as Georgia's western allies.
Family and friends of the deceased have launched several protest rallies demanding a transfer. They also met with Patriarch Ilia II, the head of the Georgian Church, on Friday to seek his assistance, but to no avail.
Seemingly contradicting the theory espoused by Tskhinvali's de facto prosecutor's office that Tatunashvili was involved in 'the Ossetian genocide', Akhalgori residents told DFWatch that he could not have participated in the 2008 war, because he was serving in Iraq at the time.
Georgia sent soldiers to Iraq as part of the US-led coalition and by 2008 had deployed the third largest military contingent in the coalition.
Tskhinvali's version of how he died is becoming less plausible by the day, as Tatunashvili had lived for years in Akhalgori undisturbed and even run a small business. Akhalgori is a district in South Ossetia predominantly inhabited by ethnic Georgians.
Relatives in Akhalgori say the deceased former soldier was detained after a verbal confrontation with Ossetian customs officers and the head of police in Akhalgori, Alexander Jioyev.