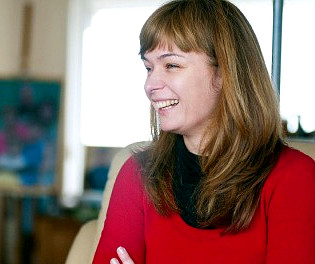 TBILISI, DFWatch–Georgia's former first lady Sandra Roelofs is withdrawing from the runoff election for parliament in Zugdidi, after the repeat ballot in three of Zugdidi's precincts reveals that her opponent from the Georgian Dream is leading by a significant margin.
According to the preliminary results, Roelofs got slightly over 30%, while her opponent Edisher Toloraia from GD got over 68% in the repeat elections in the three precincts in Zugdidi where the result of the Oct 8 general elections were annulled due to irregularities.
"Everyone knows that I got [the parliamentary mandate] in the first round, so I think it's insulting to participate in the second round of these unfair… elections,"  Roelofs told Odishi News, a Zugdidi based news agency.
"I know that I'm a winner," she said, adding that her victory would be seen as a personal defeat for the billionaire and former PM Bidzina Ivanishvili, whom the opposition blames of ruling the country from behind the scenes. She recalled a statement by Ivanishvili aired during his tour to the regions of Georgia in the weeks before the election, in which he said "even that woman (Roelofs) wouldn't win" in Zugdidi.
This statement was taken as a direct order by local authorities, Roelofs claimed.
Zugdidi is the central city of Megrelia, which is regarded as a stronghold of the United National Movement (UNM),  the party which ruled Georgia for nearly a decade until 2012. The leader of the UNM is Roelof's husband Mikheil Saakashvili, who is currently governor of Ukraine's strategic Odessa region.
In Zugdidi, as well as in many other places, the ruling party resorted to various methods in order to rig the elections, including utilizing "thieves-in-law and criminals'" help, Sandra Roulofs further claimed.
She is curious as to why international organizations have praised the elections, which was ultimately rigged and neither free nor fair in her opinion.