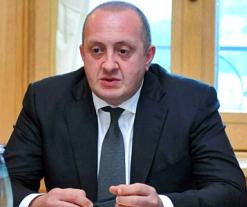 TBILISI, DFWatch–The will of the Georgian people was expressed in the local elections, but it is questionable whether a total win by one political party will be beneficial for the country, President Giorgi Margvelashvili said in his first comments on the local elections, which were held on Saturday.
"I do not think that generally the will of the society was not manifested in the elections," Margvelashvili said in an interview with Maestro TV.
He reluctantly congratulated the ruling Georgian Dream with its victory.
However, "can the country where all the major government levers are in the hands of one party, can't we ask questions about the completeness, integrity and efficiency of democracy?" he asks rhetorically.
And this is "a major question", he added.
Margvelashvili also questioned whether public servants were able to express their will freely, an accusation often posed to authorities in connection with elections in the past.
"An enormous number of questions have been put forward regarding whether public servants were able to vote according to their own will or were controlled by their supervisors," Giorgi Margvelashvili said.
The ruling Georgian Dream – Democratic Georgia won in all but one electoral district. In most districts, the GD candidates won in the first round. The only place where the opposition candidate won was Tianeti, a town north of Tbilisi. That district's mayoral race was won by Tamaz Mechiauri, a former MP who left the ruling party in 2016.
However, even in Tianeti, the Central Elections Commission declared the GD candidate the winner, though this decision was overturned by the court on Wednesday.