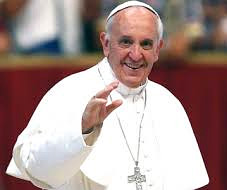 TBILISI, DFWatch–A group of orthodox Christian parents in Georgia are planning to demonstrate against Pope Francis during his visit the coming week.
The group is called the Union of Orthodox Parents and is well-known among locals for its confrontational style and conservative views.
On Wednesday, the parents protested in front of the Vatican embassy in Tbilisi, against the pope's upcoming visit.
They claim his visit is dangerous for Georgia's Orthodox Christians, whose church does not recognize the pope and has been autocephalous since the 11th Century. The top cleric in Georgian Orthodox Christianity is the Georgian patriarch, based in Tbilisi.
The 'parents' want to protect the reputation of the Orthodox Church, and appeal to the government, and the leadership of their own church, to call off the visit.
The protesters carried posters saying 'The Vatican is a spiritual aggressor' and 'Pope Arch-heretic, you are not welcome in Georgia.'
The 'orthodox parents' came to the attention of locals when they attacked a Halloween party. They are known for their strong viewpoints and drastic actions, protesting against LGBT rights and the youth music festival Kazantip, and at times confronting other religious communities.
The union warned that they are also planning rallies during Pope Francis' visit. They claim that it was President Giorgi Margvelashvili's initiative to organize the visit and that he 'pressured' Georgian Patriarch Ilia II and the leadership of the Georgian Orthodox Church. The parents group even claims that Patriarch Ilia didn't want Pope Francis to visit Georgia.
"[The pope] shouldn't try to recruit our people. It is unacceptable to us," one of the demonstrators said.
Pope Francis will visit Georgia on September 30 as part of a tour of the Caucasus. While here, he will meet with the president and government officials, as well as foreign diplomats and civil society groups.
The pope will also visit the administration of the Georgian Orthodox Church, which is called the Patriarchate, and meet with Catholicos-Patriarch of All-Georgia Ilia II. October 1, he will conduct a mass at Mikheil Meskhi Stadium, the primary football stadium in Tbilisi, and later visit Svetitskhoveli Cathedral in Mtskheta, the historical capital of Georgia.
The next day he will depart for Azerbaijan.