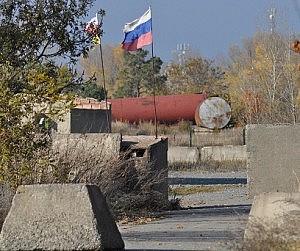 TBILISI, DFWatch–Georgia blames a drop in the number medical visits from South Ossetia on obstacles imposed by Tskhinvali justified by claim Ossetians are being 'humiliated'.
In 2017, there was a sharp drop in the number of people traveling from South Ossetia to Georgia proper to get medical treatment.
Last summer, Anatoly Bibilov, the breakaway region's de facto president, called on "citizens" of South Ossetia not to go to Georgia for medical reasons because, he insisted, "Ossetians are being humiliated" and "forced to adopt Georgian citizenship" by the intelligence service.
However, despite many formal and informal obstacles, many South Ossetian residents anyway traveled to hospitals in Tbilisi and Gori in order to get better medical care, Tamaz Bestaev, the head of the Healthcare Service at South Ossetian Interim Administration, told DFWatch.
The Interim Administration is based in Tbilisi and is regarded by Georgia as the legitimate representation of South Ossetians, instead of the de facto government, which is based in Tskhinvali.
The Healthcare Referral Program was set up a few years ago by the Georgian government in order to assist residents of South Ossetia and Abkhazia. It offers any person without Georgian citizenship who permanently reside in the occupied territories free medical treatment, including surgeries, for up to 15,000 laris (USD 6,000).
In 2017, the number of medical patients from South Ossetia plunged to a mere 417. This marks a sharp drop from 2016, when the number reached a record 915, including 95 children. In 2015, the number of S.O. patients was 619, including 62 children;in 2014, the number was 515, including 67 children, and in in 2013, it was 320, including 64 children.
Those who travel for treatment enter Georgia proper via Larsi checkpoint between Georgia and the Russian Federation, Bestaev said. Most of them come by the assistance of the Red Cross, yet a smaller number of people participate in the program independently, he added.
No matter what obstacles Tskhinvali imposes, the inflow of S.O. resident won't be stopped because they have no other way, Bestaev thinks.
"The medical care is incomparably better here. Doctors here have higher qualification, equipment and medicines are of better quality than in other post-Soviet countries," Bestaev said.
On August 30, de facto president of South Ossetia Anatoly Bibilov spoke about the necessity of reducing the number of Ossetian patients in Georgian clinics in an interview with Ossetian media.
"Most of our patients who returned from Georgia say that Georgian intelligence is talking with them, offering Georgian citizenship for more services. Whoever, for example, cares about the health of his or her child, will try everything and can't be reprimanded. We need to create conditions so that no-one has to go there and be subject to such humiliation," Bibilov said, adding that Ossetian medical personnel are undergoing retraining at Russian universities.