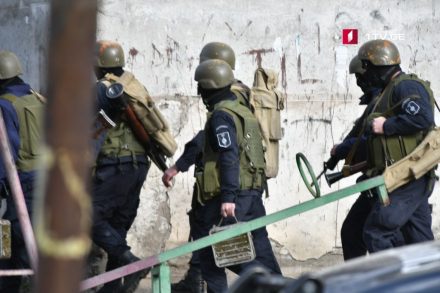 TBILISI, DFWatch–Five men were detained in a counter-terrorism operation in Georgia Tuesday morning accused of links to a terror plot involving a senior ISIS operative who was killed in Tbilisi a month ago.
The five, Zurab Gornakashvili, Ruslan Aldamov, Ramaz Margoshvili, Badur Chophanashvili and Temirlan Machalikashvili, are suspected of assisting ISIS operative Akhmed Chatayev and his alleged accomplices sneak into Georgia from Turkey, rent a flat and obtain arms.
Authorities said Chatayev, who was killed in a police siege in Tbilisi on November 22, was plotting terror attacks against diplomatic missions in Georgia and Turkey.
Four of the men who were rounded up Tuesday morning were apprehended in the villages Duisi and Omalo in Pankisi Gorge, while the fifth was detained in Tbilisi.
All are natives of Pankisi, a valley in the north eastern part of the country populated mostly by Kists, who are ethnic Chechens.
The counterterrorism operation was conducted by personnel from Georgia's State Security Service (SUS).
Chatayev masterminded the Ataturk Airport bombings in 2016 and was wanted by Turkey and the United States on terrorism charges. Two of his alleged accomplices also died in the shootout with police in Tbilisi's Isani district November 22, while one was arrested. One police officer was killed as well. Chatayev and the three other men were all ethnic Chechens.
During Tuesday's police operation, one of the detainees, 19 year old Temirlan Machalikashvili, was shot in the head as he was being apprehended and remains in a critical condition.
"In the moment of detention, Temirlan Machalikashvili tried to offer resistance to law enforcers," a SUS spokeswoman said at a briefing. "Machalikashvili tried to activate a hand grenade, when proportional force was employed due to extreme need in order to suppress criminal activity, and law enforcers opened fire in his direction, as a result of which Machalikashvili received firearm injuries in the head. Machalikashvili was brought to the hospital."
However, his family members challenge this claim, insisting that the SUS officers deliberately shot him in the head.
The incident has triggered a mass indignation in Pankisi. The local council of elders, an unofficial yet powerful authority among mountain people in the Caucasus, plans to hold an emergency meeting on Wednesday to discuss the situation.