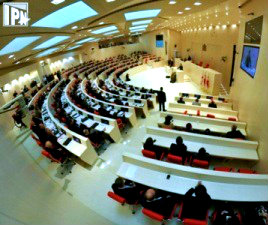 TBILISI, DFWatch–The minority National Movement party has been boycotting parliament for more than a week and refuses to continue work in the assembly.
The party's delegates left the session hall as a sign of protest when a scuffle broke out between MP Giorgi Baramidze from UNM and MP Soso Jachvliani from Georgian Dream.
The latter asked questions to Baramidze during his speech and scolded him. Afterwards they got into a physical confrontation. https://dfwatch.net/scuffle-breaks-out-in-georgian-parliament-33216
UNM members protested against the incident, which took place on December 11, and haven't continued working since then.
Davit Usupashvili, Speaker of Parliament, on Friday called on UNM members to return to parliament. He said he met with Davit Bakradze, parliamentary leader of the UNM, and discussed the reasons why that party doesn't want to continue work in parliament.
"We agreed that we will have consultations in the next few days," he said and called on the UNM delegates to return to parliament and continue their work.