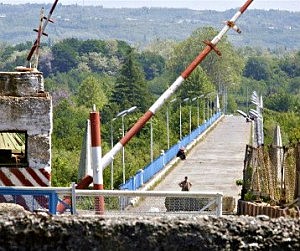 TBILISI, DFWatch–The Georgian minister of internal affairs, Giorgi Mghebrishvili has claimed he has information that the suspect in the Khurcha killing could become 'liquidated' in a plot to discredit Georgia.
"Abkhazia's de facto Prosecutor's Office appealed to the de facto court to have Otkhozoria's murderer arrested. I stress that it is a correct decision for his own safety. According to available information, his liquidation is possible, which can be used against Georgia and which can lead to a re-escalation of the conflict," Mghebrishvili said.
Giga Otkhozoria, a Georgian internal refugee, was fatally shot by an Abkhaz border officer on May 19 while on Georgian-controlled territory at the Khurcha-Nabakevi checkpoint on the border with Abkhazia, one of two breakaway regions. The local Prosecutor's Office opened an investigation into the murder, but de facto Abkhazian authorities have so far failed to detain the suspect.