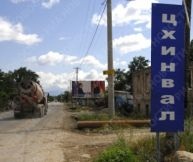 TBILISI, DFWatch–Campaigning will soon begin for the election to become new de facto president of Georgia's breakaway region South Ossetia.
The secessionist parliament of the region must schedule the date of the election and start the campaign before January 29.
Russian state news agency Sputnik Ossetia reported that on December 9, the de facto parliament of South Ossetia approved amendments to the law on presidential elections, according to which a new president of the region will be elected the second Sunday of the month in which the previous election was held. By that logic, the next presidential election in Georgia's separatist region will be held on April 9.
According to the new amendments, candidates who want to run in the election must collect 3,500 signatures in support. Previously, the requirement was 1,000 signatures.
Leonid Tibilov, a former KGB officer who has been the de facto president of the separatist region since 2012, has said he wants to run for a second term. Other candidates are the former president Eduard Kokoiti and the speaker of parliament Anatoly Bibilov.