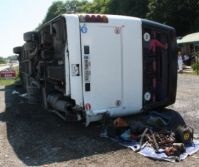 TBILISI, DFWatch–There was an accident on Wednesday in Rize, Turkey, which left ten passengers injured, including citizens of Georgia.
Representatives of the Health Ministry of Adjara left for Turkey to see citizens of Georgia.
According to Deputy Health Minister Levan Gorgiladze, a light vehicle crushed a bus in Rize. Five passengers were taken to a university clinic, five to the hospital in Rize.
None of the passengers were seriously injured.
He said the details and causes for the accident will be known when a delegation from Adjara arrives in Turkey.
Bus accidents in Turkey are frequent. Nineteen citizens of Georgia were injured in an accident in June. The driver of the bus, who was a Turkish citizen, died as a result of the accident. There were 42 passengers in the bus, all Georgians.
In January, a bus skid and turned over as result of which 21 passengers died and 29 were injured.