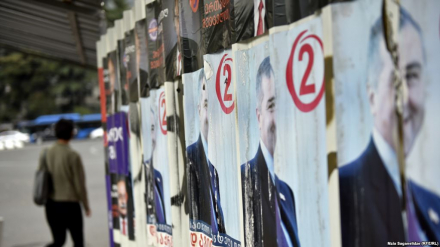 TBILISI, DFWatch–On Sunday, Georgians go to the polls for the last time to elect a president. Even though the role of the president in recent years is largely ceremonial, the contest has turned into a fierce political showdown.
Although the powers of the president have been gradually reduced since the split between Bidzina Ivanishvili, the leader of ruling Georgian Dream, and Giorgi Margvelashvili, the incumbent president, these elections are viewed by the opposition as a curtain-raiser of Ivanishvili's downfall and both sides have thrown in all their resources in order to beat their opponent.
The frontrunners are Salome Zurabisvhili (sometimes spelled Zourabichvili) backed by Georgian Dream and Grigol Vashadze, the candidate of collection of minor political parties under the umbrella of the United National Movement, the former ruling party whose leader Mikheil Saakashvili lives in exile in the Netherlands.
Although the opinion polls vary wildly, Bidzina Ivanishvili is 'almost confident' the Zurabishvili will achieve the necessary 50% of votes to win in the first round.
A survey conducted by Georgian Dream predicts that Salome Zurabishvili will garner 54%.
But polls published by pro-opposition Rustavi 2 and conducted by Edison Research suggest that the opposition candidate Grigol Vashadze leads with 31%, followed closely by GD candidate Salome Zurabishvili with 28%, which if correct indicates that a run-off election will be needed.
The election campaign has been marred by outrageous smear campaigns from both sides, including the distributing of secret audio- and videotapes and direct accusations of being 'KGB agents' and 'Russian spies'.
The Georgian Dream politicians and media have even speculated that the opposition is planning mass unrest and even a revolution.
This is the last direct election of president in Georgia. After the end of the next six year term of the winner of this year's election, the next president will be picked by delegates.