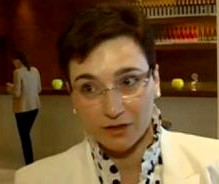 TBILISI, DFWatch–A Georgian judge at the European Court of Human Rights (ECHR) suspects that a police raid against her brother's apartment was connected to her work.
"I have reason to believe that [the police raid] is related to my work at the European Court of Human Rights. I would like to state unequivocally that nothing will affect the performance of my judicial duties and I will continue to contribute to the strengthening of democracy and human rights in Georgia," Nona Tsotsoria, ECHR judge, wrote in a on Facebook post.
"On May 18, 2017, at around 7pm., the criminal police conducted a search of my family house located in Batumi, where my brother, his wife and children live. According to the statement by the Ministry of Internal Affairs, a pistol and bullets were seized as a result of the search. We do not know how those objects appeared in our house. They do not belong to my brother or to any of the family members. My brother never had a conflict with the law and has no criminal record. Freedom, honesty, hard work and respect for the law have been and will remain the main my family's values," Nona Tsotsoria wrote.
The police raided the home of Otar Tsotsoria in Batumi on Thursday and claim they found an illegal firearm (a pistol) and ammunition. The suspect denies that he has anything to do with the illegal firearm and says he doesn't know how it ended up in his flat. He is not under arrest and police are still investigating the case.
Since 2008, Nona Tsotsoria has been serving as a judge at the ECHR as the only judge from Georgia. She is believed to be politically sympathetic to the National Movement, the party which held power from 2004 to 2012 and is most known for its leader, former President Mikheil Saakashvili.