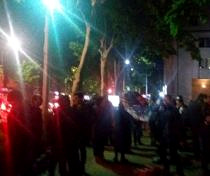 TBILISI, DFWatch–The screening of a gay pride film in a Tbilisi park had to be canceled Friday evening after someone called in a bomb threat.
LGBT people, rights activists and others, mainly youth, had gathered in Mziuri Park for a screening of the British historical comedy drama film titled 'Pride'.
But police had to evacuate the area after someone called the emergency service 112 and said there was a bomb in the park.
After sealing off the premises, police conducted a search, but found no explosives device.
Earlier, before the bomb scare, a group of conservative hardliners and clergy had assembled nearby to thwart the screening, which was organized by a group called Independent Group of Feminist.
Conservatives rallied two days prior for the recently created Day of Family Values, which is held on May 17, the same day as the International Day Against Homophobia, Transphobia and Biphobia.