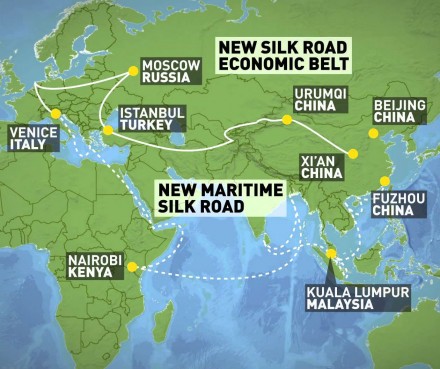 TBILISI, DFWatch–Georgian authorities are set to strengthen cooperation with China in the areas of trade, transit, and tourism.
The Georgian government has expressed interest in making Georgia a part of China's transit initiatives known colloquially as 'New Silk Roads', planning at the same time to increase Chinese direct investment in Georgian economy and to increase the number of tourists from China.
Prime minister Giorgi Kvirikashvili commented on China's 'One Belt, One Road' development strategy, whose aim is to increase economic cooperation between countries of Europe and Asia.
'For us, "One Belt, One Road" initiative is an important one. It creates a lot of opportunities for all the countries across the Silk Road. The construction of the Silk Road economic belt as an initiative that includes not only one route, but a network of many routes. It's about competitiveness, people-to-people relations, and modernising infrastructure. Georgia has an extensive infrastructure modernisation plan in order to become competitive. New agreements on free trade with China will increase the number of foreign direct investments. We believe that Georgia can become a hub for trade and logistics for Europe and Asia', Mr Kvirikashvili told Chinese state television broadcaster CCTV.
The 'One Belt, One Road' project consists of two primary components: railway routes Silk Road Economic Belt (SREB) and oceangoing Maritime Silk Road (MSR). Both roads connect the Chinese harbour and economic hub of Yiwu with Iran and Spain and are currently bypassing Georgia. Each road consists of multiple land and sea routes and the Chinese authorities are planning to establish new routes in order to further increase Eurasia's connectivity.
During the Silk Road Forum held in Tbilisi in October 2015, Chinese investors expressed interest in building a new toll road connecting eastern and western parts of Georgia through Rikoti Pass in order to increase Georgia's capacity to transfer Chinese goods in case of increased Chinese investment in the region. The announcement hints that China might be considering including Georgia in one of its future 'New Silk Roads' under the 'One Belt, One Road' project.
China and Georgia are also planning to finalise negotiations on a comprehensive Free Trade Agreement (FTA) towards the end of the year.
'We are expected to reach a high-standard FTA with China to push forward the future development of our trading cooperation', Chinese state press agency Xinhua quoted Genadi Arveladze, who is Georgia's chief negotiator and deputy minister of economy and sustainable development.
'China has become the fourth largest trading partner and one of the fastest increasing export destinations for Georgia in 2015', Mr Arveladze added.
Last week, head of the Georgian National Tourism Administration Giorgi Chogovadze announced that Georgia was planning to abolish visa regime for Chinese citizens and to improve the touristic offer for Chinese tourists. He noted that abolishing visas for Iranian nationals led to a sharp increase in tourism.
'The number of tourists visiting Georgia is at its peak. 2016 has already begun with record figures. We need a couple of components for developing tourism: exhibitions, marketing events, visa liberalisation. Iran is a good example and the result is already visible', Mr Chogovadze said.