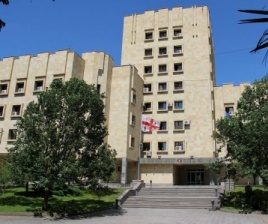 TBILISI, DFWatch–Georgian Prime Minister Irakli Gharibashvili appointed a new chief prosecutor on Monday. The country has been without one for almost a month.
The new chief prosecutor is Giorgi Badashvili, a 32 year old graduate from Georgian Technical University's Faculty of Law and has a background from the investigative department at the Prosecutor's Office.
In late December, Otar Partskhaladze was forced to resign as chief prosecutor shortly after being appointed, in connection with speculations about his past. The National Movement's embattled Tbilisi mayor Gigi Ugulava claimed that Partskhaladze had been convicted of robbery in Germany. Initially rejecting the claim as a smear, the chief prosecutor did after a while acknowledge that he had been convicted in 2001 of arguing with the German police and chose to resign. The National Movement also claimed that his university diploma was forged.
For the three weeks Georgia's top prosecutorial post was empty, media have been speculating about who would replace Partskhaladze. Candidates have included Kakhi Kakhishvili, from the civil sector, MP Eka Beselia, deputy Prosecutor Irakli Shotadze and others.
A few days ago Prime Minister Irakli Gharibashvili said that the government has discussed several options for a replacement, but he didn't specify any names.
The approval procedure in Georgia is that the justice minister proposes a candidate for chief prosecutor to the prime minister, who then may approve the person or not.
On Monday, Justice Minister Thea Tsulukiani presented Giorgi Badashvili to the PM for approval, and later it became known that Badashvili was appointed.
The Prosecutor's Office wrote in a short statement that a candidate has been selected due to his qualifications, professionalism and good reputation.
Giorgi Badashvili was born in 1981, and in 2008 graduated from Georgian Technical University's Faculty of Law.
In November, 2013, he chaired the investigative department at the Prosecutor's Office.
In 2006 he was investigator at the Finance Ministry's financial police, at the Adjara department.
In 2011, Badashvili was appointed as deputy head of the second investigative department of the Finance Ministry in Tbilisi. Later he was promoted and became head of the department.
Before November, 2013, he worked at the Interior Ministry as deputy director of the anti-corruption department. From November 22 until now he was chair of the investigative department at the Prosecutor's Office.