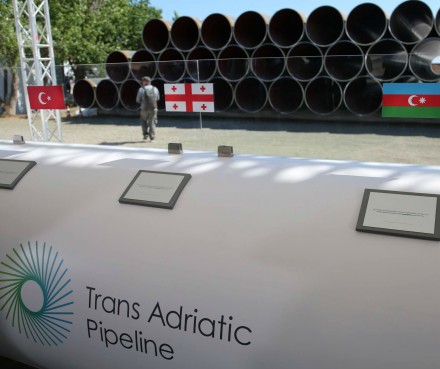 TBILISI, DFWatch–Azerbaijan's President Ilham Aliyev is certain that nothing can prevent the construction of a new pipeline from his country to the European mainland.
As a major producer of natural gas, the Caspian Sea nation has much to gain from the planned Southern Gas Corridor, a 3,500 km long pipeline that will supply Europe with Caspian gas, bypassing Russia, which, it is feared, could use energy as a way to exert political pressure.
Lately, the proposed pipeline has suffered from uncertainty regarding funding. The known cost of the project is USD 45 billion, some of which is covered by the EU.
But addressing the third ministerial meeting of the SGC Advisory Council in Baku on Thursday, Azerbaijan's energy minister Natig Aliyev, whose government has asked for money from the EU for the pipeline, said he now believes the cost will not exceed USD 40 billion.
"This is linked with the market situation; in particular, with cheaper cost of some services," the Azerbaijani energy minister said. "This makes us happy," he added.
But some uncertainty still lingers as not all potential creditors of the Southern Gas Corridor have decided to approve funding for the project.
The corridor will consist of three pipelines: the South Caucasus Pipeline extension (SCPx) through Azerbaijan and Georgia; the Trans-Anatolian Pipeline (TANAP) through Turkey; the Trans-Adriatic Pipeline (TAP) through Greece, Albania, and Italy.
Thursday's meeting in Baku was attended by SGC energy ministers, including the Georgian energy minister Kakha Kaladze. The EU Commission's Vice President for Energy Union Maros Sefcovic was also present at the meeting.
Bosnia, Croatia and Montenegro had expressed a wish to connect the Ionian Adriatic Pipeline to the Southern Gas Corridor, Azerbaijan's Energy Minister Natig Aliyev said on Thursday.
The EU's plans complement, or compete against, parallel plans by Russia for a gas pipeline also across the Black Sea region to Europe. Russia's South Stream project was canceled due to EU putting pressure on Bulgaria following the annexation of Crimea, but a replacement was found called Turkish Stream which will place a pipeline under the Black Sea, ending in Turkish Thrace.