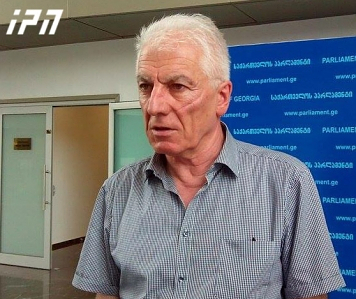 Tbilisi, DFWatch – A member of Georgian parliament, notorious for his radical anti-NATO, antigay statements, Thursday withdrew his candidacy in a majoritarian district and expressed support to Georgian Dream and its founder, former Prime Minister Bidzina Ivanishvili.
Nine days before the election Tamaz Mechiauri, MP and a leader of a party 'Tamaz Mechiauri – United Georgia", released a statement informing that he will continue election campaign.
Tamaz Mechiauri was a member of GD but left it after constant bickering with Republican Party members, which was also in the same coalition that time. He set his party up only after formally leaving GD in June.
Mechiauri called for the voters of Georgian Dream to support him.
'Despite different views about the country's foreign policy, our party expresses support to Bidzina Ivanishvili and his team and is ready to stand by him in any critical situation, including the attempt of destabilization,' Mechiauri's short Facebook statement reads.
Recently anonymous video tape was published on YouTube purporting that United National Movement leaders, including ex-President Mikheil Saakashvili, plotting revolution in Georgia after elections, if they lose. Soon the GD politicians accused UNM, a major opposition force in the country, of plotting to violently overthrow the government. The UNM denies the accusations.
Mechiauri earlier planned to ran as a majoritarian candidate in Dusheti, Kazbegi and Tianeti district.
He left Georgian Dream on May 21. Mechiauri became memorable in public with his anti-NATO, also homophobic statements.
Latest polls indicate very low popular support Tamaz Mechiauri's party and in the rush for anti-NATO voters he's been soundly outflanked by other parties, such as Nino Burjanadze's Democratic Movement.