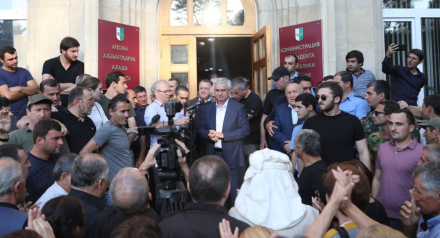 TBILISI, DFWatch–The Supreme Court in Abkhazia on Friday rejected a lawsuit filed by presidential candidate Alhaz Kvitsinia, seeking to annul the results of the runoff elections and call a new election.
Although Kvitsinia's team will appeal the ruling, it is already clear that Kremlin-backed Raul Khajimba, a former KGB operative, has won the election. In the second round, he received 47.39% of the vote, while his main rival, Alhaz Kvitsinia, got 46.17%.
Supporters of Kvitsinia and Khajimba gathered in different parts of Sukhumi throughout the day.
After the verdict was announced, Khajimba greeted his supporters and promised to fulfill their hopes.
"Now we have to justify your confidence, to solve the problems facing the country," Khajimba said.
A few hundred supporters of Kvitsinia expressed frustration. Their rally went quiet. Speakers have said they will soon hold a large public gathering to inform supporters of their future plans.
The opposition claims that Raul Khajimba won the election by fraud, intimidation and vote-buying.
Khajimba's victory has widened the gap in Abkhazian society, particularly in relations between ethnic groups, a Georgian official working inside the breakaway territory told DFWatch.
Khajimba won with the backing of the ethnically non-Abkhaz electorate, mostly ethnic Armenians, while the majority of the ethnic Abkhaz backed Kvitsinia; consequently, the elections have further aggravated the relationship between the two ethnic groups, he said.
When it comes to ethnic Georgians, the vast majority of them have been deprived of the right to vote. Only about 900 Georgians from Gali, who had been given passports by the de facto authorities, took part in the ballot.
DFWatch was told that passports were distributed only to those ethnic Georgians who openly supported Khajimba, allowing them to vote.