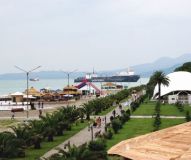 TBILISI, DFWatch–The economy minister on Friday summed up the summer tourism season in Georgia together with the head of the National Tourism Administration.
According to Minister of Economy Dimitry Kumsishvili, 4,247,729 foreigners visited Georgia in the first eight months of 2016; an 8.2 percent increase from 2015.
Among the foreign visitors there were 1,851,917 tourists; 17 percent more than last year.
From the EU member states, more people visited Georgia from Latvia, Czech Republic and Hungary.
Georgia's income from foreign tourists in 2015 was USD 1.94 billion, which was 8.3 percent more than the previous year. In the first quarter of 2016, the income from tourism was USD 354.5 million, 15.7 percent more than in the same period last year.
Kumsishvili, who is also deputy prime minister, said that in the first seven months of 2016, the amount of money tourists paid with foreign debit or credit cards was USD 860,211, which is 11.6 percent more than last year.
During these eight months, the National Tourism Administration held an online campaign in sixteen countries – 200 articles, blogs, documentaries and reports have been prepared about Georgia, the deputy PM said.