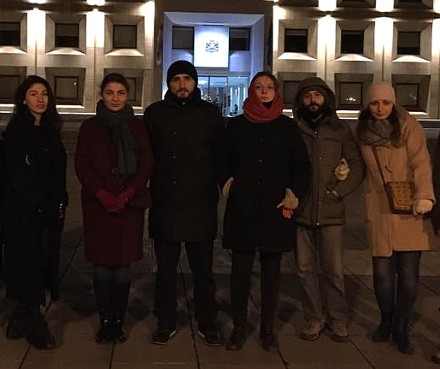 TBILISI, DFWatch–For two days, Nika Cherkezishvili has spent the night outside the government office in Tbilisi, refusing to leave until he gets a meeting with Prime Minister Giorgi Kvirikashvili.
What caused Cherkezishvili begin a one-man protest is that he claims he was illegally fired from a job at the Foreign Ministry, and now he demands to get back his job back.
Monday, he asked the Public Defender and the Prime Minister to study the case. He also met government lawyers, who promised to help but have still not gotten back to him.
Cherkezishvili was fired in October 2015, before the end of his six month conditional term. He was told that he is unprofessional and has a conflict personality, but he claims that he used to work at the Justice Ministry for 11 years and it is nonsense that he doesn't have experience.
Cherkezishvili believes that the stated reasons are untrue and that his firing was illegal. Before he began the protest, he tried taking the case to court, but it was delayed and in the end the court ruled against him.
After receiving the court's decision, which was made on December 5, he plans to pursue his case in the Appeals Court, but the lawsuit is causing problems for him in finding another job.
Activists from Tbilisi Solidarity Network Monday evening gathered at the government office to show support, while the Foreign Ministry promised a meeting and asked him to stop the protest.