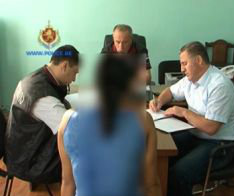 TBILISI, DFWatch–The Prosecutor's Office in Georgia has charged an citizen of Uzbekistan for human trafficking.
The suspect, Nargizbegim Nakhmanova, born in 1984, is charged in absentia for four different violations, according to the Interior Ministry.
Apart from trafficking, she is also charged with a murder which took place on May 22, 2013. She is suspected of having ordered a murder of another citizen of Uzbekistan, who was killed in the village Beshumi, western Georgia.
Nargizbehim is currently not in Georgia. She left the country on May 31. The suspect came to Georgia in 2012 and, according to the ministry, got five citizens of Uzbekistan to come to Batumi, a city on the Black Sea coast. She took their passports and IDs from the women and involved them in prostitution at Batumi hotels and night clubs.
Georgia is cooperating with the police of Uzbekistan and an investigation is launched by two articles: murder and human trafficking.
A woman, Raikhon Kuranbaeva was killed May 23 in the village Beshumi when someone hit her with a stone in the head. The police at the time said that Nargizbegim Rakhmanova had brought her to Georgia in order to get
involve her in prostitution, but she got psychological problems and planned to return to Uzbekistan and report
about her story.
Lasha Kldiashvili, prosecutor of Khelvachauri region, said then that Nargizbegim had decided to 'get rid of her' because she would create problems for her in Georgia and Uzbekistan, a circumstance which defines stricter punishment for trafficking.
According to the investigation, Nargizbegim ordered to kill her for USD 2 000, and in the end of May left
Georgia, while locals from Batumi Kakha and Anzor carried out her order and killed the girl and received
USD 1 000 each. The police detained both of them and both admitted guilt.