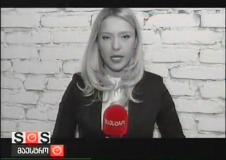 TBILISI, DFWatch – The evicted Georgian TV journalists are keeping alive an emergency schedule, while taking to the streets again today to ask for solidarity.
Maestro currently shows the letters "SOS" continuously at the bottom of the screen and runs an ad in which their most recognizable profiles tell authorities to give them back their equipment and building and uphold the law.
Friday they rallied, and today the demonstrations continue, this time in front of the president's residence in Avlabari in the old district of Tbilisi. Their demand is that authorities intervene and remove businessman Erosi Kitsmarishvili from their main studio building so they may reestablish normal operation.
Kitsmarishvili's basis for climbing the wall outside Maestro in the morning dusk of November 30 and taking it over is an agreement he signed two years ago which gave the former cable channel a new influx of money in exchange for management rights.
While Mr Kitsmarishvili says he is acting on his own behalf, former producer Mamuka Glonti has repeatedly said that what has happened is orchestrated by President Saakashvili and likened it to the police storming of Imedi TV in 2007.
"Saakashvili climbed the Maestro walls, not Kitsmarishvili," Glonti said yesterday as he met with media heads and representatives to set up a new media unit on his own initiative. "So tomorrow we will ask him to climb back and that he remains in his palace. We will demand to free the building and that journalists may enter there and continue their normal activity," he said, adding that today Kitsmarishvili 'illegally broadcasts via satellite and no one interrupts it.'
"We are here and police do not help us to enter there. What if he broadcasts some appeals about the overthrow [of the government] or let's say, pornography? Who is responsible?" Glonti asked.
(Image shows news presenter Maka Tsintsadze, one of a dozen "Maestroians" appearing in the new ad "Me maestroeli var". "Maestro is [as] one, and we Maestroians tell you; police, courts, government: give us back our means of work, reestablish the law," the journalists say in the ad, reading one word each.)