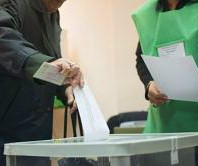 TBILISI, DFWatch–The National Movement yesterday won the repeat election in a precinct in the south of Georgia, while Georgian Dream won in the western Zugdidi area.
But the UNM candidate didn't win by more than 50% at the 48th precinct in Marneuli, a small predominantly ethnic Azeri town in the south of Georgia, and a second round will therefore be necessary, scheduled for October 30.
As for Zugdidi, a district in the west of Georgia, UNM's Sandra Roelofs was defeated by Edisher Toloraia, but also there a second round will be necessary at all three precincts which held a repeat election on Saturday due to irregularities in the October 8 general election.
On Sunday, Roelofs decided to withdraw her candidacy and not participate in the second round, a decision which drew criticism from fellow party members.
The results of the repeat election did not influence the results announced earlier by the Central Election Commission (CEC). In the Marneuli district as a whole, the two candidates with most votes were Akmed Imamkuliev (UNM) with 48,1 percent and Tamaz Naeveriani (GD) with 43,4 percent of votes.
In Zugdidi, Roelofs got 44.8 percent of votes and Toloraia 48.6 percent.
Sunday, CEC published the final results of the October 8 majoritarian and proportionate election. Three parties managed to surpass the 5 percent minimum: Georgian Dream  48.68 percent, National Movement 27.11 percent and Alliance of Patriots 5.01 percent. 23 candidates managed to win the election in the first round – all from Georgian Dream. The second round will be held at 50 districts on October 30.
According to CEC, the repeat election on Saturday was held in a peaceful environment.
Mamuka Mdinaradze from Georgian Dream is confident that the results of the repeat election in Marneuli will not affect the final results and that the GD candidate will win in the second round.
Giga Bokeria from the UNM yesterday said that the result of the repeat election is proof that there was an attempt to fabricate the results of the October 8 election. He referred to the incident which happened at the 48th district which was attacked by a group of enraged people.
Bokeria said that the second round will be 'too difficult' but they have to fight in a democratic way.
Mdinaradze, on the other hand, believes that the incident in Marneuli on October 8 was a deliberate provocation but didn't affect the results of the election.
There was also held by-election for head of municipality, or gamgebeli, in Zugdidi on Saturday and all three precincts will also require a second round in that race.