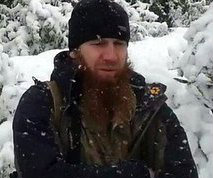 TBILISI, Dfwatch–The Islamic State military commander Tarkhan Batirashvili, a native of the village Birkiani in Georgia's Pankisi valley, widely known under his nom de guerre Umar Shishani, was confirmed dead by Amaq Agency, which is affiliated with the Islamic State.
"Shaykh Umar ash-Shishani martyred in Shirqat as he participated in clashes to repel the campaign against the city of Mosul," Amaq Agency wrote, quoting a military source.
Pankisi-based Radio WAY reported that the relatives of Batirashvili have not been officially notified about his death, but they had 'reliable information' that he had died in battlefield in Iraq. The family isn't receiving condolences yet.
The alleged death or capture of Batirashvili was reported several times in 2014 and 2015, but none of the reports turned out to be true. On March 9, major Western news outlets reported that Batirashvili was 'likely' killed in an American airstrike in the town of ash-Shaddadi in northeastern Syria on March 4.
On March 10, however, the Syrian Observatory for Human Rights denied the reports of his death and informed that he was alive and being treated in a hospital in Raqqa province, in territory controlled by the Islamic State.