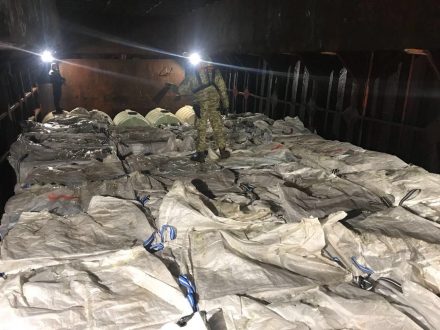 TBILISI, DFWatch–On December 31, Ukrainian border guards fired warning shots at a ship off the coast of Odessa and took it into custody.
The ship, which was flying a Tanzanian flag, was found to be carrying counterfeit cigarettes from Abkhazia, destined for Bulgaria.
According to Ukrainian media, the border guards noticed the vessel in the vicinity of Kurortnoe settlement, in Odessa Oblast. It later turned out that the vessel set out from Ochamchire port in the breakaway region Abkhazia and was heading for Varna, Bulgaria.
The Security Service of Ukraine (SBU) decided to carry out a check of the vessel and deployed Pryluky, a Matka class hydrofoil missile boat of the Ukrainian Navy.
The suspect vessel attempted to disobey orders, but after artillery was used to fire warning shots it stopped, and a special unit of the SBU conducted a search on board, turning up 1,740 boxes of cigarettes.
The cargo was accompanied by document issued by authorities in breakaway Abkhazia which is not recognized by Ukraine as a legitimate entity, hence the cigarettes were assumed to be counterfeit. Eventually the vessel was arrested and convoyed to Odessa port.