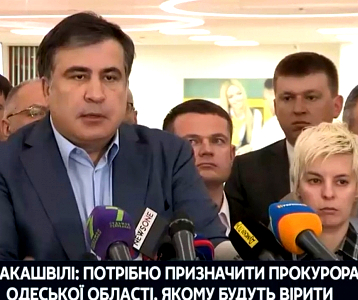 TBILISI, DFWatch–A court in Georgia on Friday found the country's former president Mikheil Saakashvili guilty of abuse of power and sentenced him to three years in jail.
The sentence, which was passed in absentia, was initially four years, but the term was curtailed due to an amnesty law. Saakashvili was also barred from holding higher office in the state for a further year and a half.
The abuse of power Saakashvili was sentenced for occurred in 2008, when he pardoned several police officers who were implicated in the murder of a young bank employee two years prior. The Girgvliani murder in January, 2006 sparked public outrage and led to the drastic drop in the popularity of then President Saakashvili and his United National Movement.
Later, he admitted that the case was effectively a "black stain" on his reputation which he felt partly responsible for. (See more details of this high-profile case here.)
However, the verdict passed Friday by Tbilisi City Court stirred much controversy as Saakashvili himself as well as his supporters and independent observers deem the pardon of convicts as being within the constitutionally guaranteed powers of the president, for which he can't be prosecuted, only bear political responsibility. They therefore regard Friday's verdict as politically motivated.
"The 'decision' by a Georgian court, which is under the complete control of the largest private individual shareholder of Gazprom, Ivanishvili, regarding myself is completely illegal and contradicts all the relevant international and national legal norms as well as common sense," Saakashvili wrote on Facebook.
"To judge a president for using his right to pardon, which I applied to 133 former military service personnel and which is not limited in any way, testifies to the completely political character of this process.
"[…] But this "decision", as well as the parallel legal process in Kyiv, clearly demonstrates that the oligarchic governments in both Ukraine and Georgia are working – in a synchronized and completely coordinated fashion with each other – against me as a leader of the fight against corruption, the oligarchs and robbing the people," he said.
In this vein, incumbent President Giorgi Margvelashvili also criticized the court decision, yet acknowledging that his criticism applied not the case as such but to the specific fact that the president was being prosecuted for enjoying his exclusive right.
"We are looking for these days and can not find a precedent where the exclusive right of the President – to pardon someone, was been prosecuted in any jurisprudence […] Consequently, in the international view, not the case in general, but the persecution related to this article raises serious questions," Giorgi Margvelashvili said to journalists commenting the case.
Georgia's Prosecutor Office, however, stated that pardoning is not "an absolute right of the president."
"The constitutional right to pardon does not mean that this right might be used […] for blanching the culprits over or for obstruction of justice," prosecutor Irakli Nadareishvili said commenting the case.