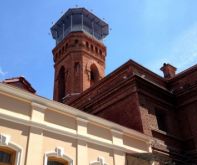 TBILISI, DFWatch–A Turkish public official who is visiting Georgia says he hopes there will be built new mosques in Batumi and Akhaltsikhe.
Mehmet Görmez,President of the Presidency of Religious Affairs of Turkey, arrived on Friday on his first visit to Georgia and held meetings at the Patriarchate in Tbilisi.
While meeting with Patriarch Ilia II, he said that historically, Georgia and Turkey have had good relations, and referred to the 1800s, when many people with different religious beliefs left Georgia to settle in Turkey and since that these people have very good relatives in Batumi, a city on Black Sea coast, and Akhaltsikhe, in the south of Georgia. In both of places, a large part of the population are Muslims.
Görmez outlined that historically Tbilisi always was a place where Christians and Muslims have lived side by side and during the governance of Muslims, Christians always had a right to have their own religion while Muslims had freedom of religion while Christians were in power.
The majority of mosques and churches here, he said, are left from history. 90 percent are from those times, while there are too few newly constructed mosques.
Interpressnews quotes him saying that in Ankara, every Georgian Christian has freedom of religion and raise their children in their own religion. Therefore, all Muslims living in Georgia should have the same rights and opportunities to practice their religion.
He says people of other religious beliefs are harassed all over the world.
"A day does not pass in Europe, perceived as center of world civilization, when a mosque is not attacked or a head of a swine is not hanged on it."
He recalled a visit by Patriarch Ilia II to Ankara who brought up the issue of Georgian churches there and Turkey has received the note and is working on this issue including old Oshkhi and Ishkhani monasteries.
Finally he expressed hope that in accordance with the agreement between the two states, mosques will be built in Batumi and Akhaltsikhe.
Two days ago, local Christians protested against the construction of a madrasa for Muslim kids in Kobuleti and hung a pig's head on the entrance door. This was insulting to Muslims and caused a conflict in Kobuleti.
On Friday, Muslims in another region, Adigeni, organized a support rally for Muslims in Adjara and protested against the intolerance of the local population.