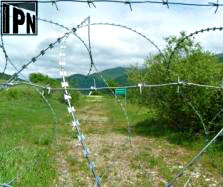 TBILISI, DFWatch–Russian soldiers Friday detained three Georgian citizens close to the breakaway region South Ossetia.
The incident took place as the father of one the detainees, Aleksandre Tsertsvdze, was being driven by his neighbor to the neighboring village, where his father had died a few days ago, locals say.
On the way to Akhalkhurvaleti, they took the short way and crossed a road which is dangerous and locals always refrain from walking on, though there are no razor wires.
Aleksandre Tsertsvadze was detained, along with his wife Nana Vanishvili and Irakli Merabashvili. Soldiers also arrested his 6 year old son, but released him immediately.
The three detainees are being kept in preliminary detention in Tskhinvali, a town and the center of the de-facto authorities in South Ossetia.
Zaza Muzashvili, the gamgebeli of Zegduleti, where the detainees live, said that this case worsens the situation in the conflict zone. Relatives and neighbors are asking for action from the Georgian government and call on the Ossetian side to release the people who have been detained.
Georgia's Interior Ministry said they had begun negotiations about releasing the detainees.
During the last two months, Russian soldiers have detained seven Georgian citizens close to the boundary line around South Ossetia.
Detentions have became more frequent since Russian soldiers in May moved the border 300 meters into Georgian-controlled territory and started installing wire fences, and some houses and agricultural lands ended up on the other side.