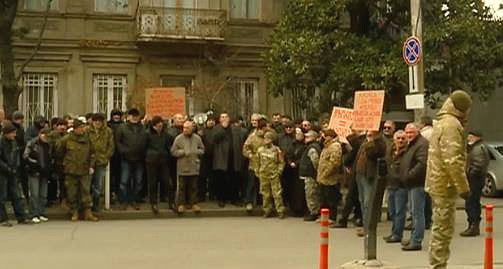 TBILISI, DFWatch–Hundreds of people protested outside the Defense Ministry on Monday against a mass layoff affecting over two thousand people, demanding fair treatment and respect for labor regulations.
Protesters demand to get their jobs back and claim the ministry violating their rights when it fired them without notice. Some protesters claim to not have received compensation.
"They are lying when they say we got compensation. I got only 179 lari (USD 66)… They said this is all I can get. They didn't even explain the reason for my dismissal," Konstantine Silagava, one of the fired employees, told Rustavi 2, a TV station supportive of the National Movement.
If their demand to get re-hired is not be satisfied, protests will continue and if necessary they will go on hunger strike.
On January 30, Georgia's Ministry of Defense sacked 2,250 employees as part of a so-called 'optimisation plan' aiming to reshuffle the needless workforce and this way save 32 million lari (USD 12 million) in the state budget.
The ministry says that alongside the terminated workers, most were civilians. Besides, 400 part-time and 1,350 full-time employees were dismissed, alongside 217 officers and 123 sergeants in the armed forces.