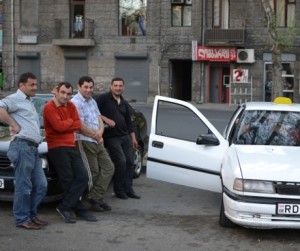 TBILISI, DFWatch–Tbilisi City Hall has begun work on a new taxi regulation that will eliminate the discomfort of taking taxis in the capital. Mayor Davit Narmania said Friday that taking a taxi will become more secure and comfortable.
The new regulation is not yet ready, but a spokesperson for City Hall told DFWatch that three meetings have been held with experts, representatives of taxi companies and members of City Hall abot what kind of standards there will be for drivers and cars and how to serve clients properly.
"We have so far only outlines concerning security, driver and cars. This means that the car has to be well maintained and passengers should be secure, while the driver has to have a health and drug check. Those are the issues which we have discussed, however the final document is not yet ready," we were told by City Hall.
Last year, there were media reports about the possibility of establishing a system for licensing taxi drivers, but Tbilisi City Hall claims they haven't even mentioned 'licensing' during the discussions.
Discussions dealt with how to register taxi drivers, how many taxis should serve the capital, and how many of them should be individually or company owned.