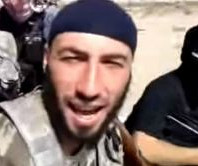 TBILISI, DFWatch–A man was arrested in Georgia Saturday suspected of being connected with ISIS. Davit Borchashvili was arrested as he arrived at Tbilisi airport after having been extradited from Turkey.
After his arrest, he was sent to hospital where he is currently receiving treatment for a gun wound.
Borchashvili's lawyer says his client confirms that he was in Syria, but claims he was fighting with the Free Syrian Army, against both ISIS and Assad's forces.
The detainee's family says he will have to remain in hospital for a few days. They insist that he has been in Turkey for a year and a half to work in construction, and that he injured a leg there. But Manana Gelantia, a doctor at Ghudushauri hospital, told journalists that the man had a bullet wound which was likely inflicted seven months ago.
Two videos were posted on Youtube under the username Al Shishani and re-posted in Georgian media, showing the movement of fighters and a funeral. Georgian media outlets indicated that the video allegedly showed Borchashvili carrying weapons and then attending the funeral.
His lawyer Gela Nikolaishvili on Sunday told the television channel Rustavi 2 that Borchashvili doesn't deny that he was in Syria, but he has no ties to ISIS.
"The group he had contact with is really fighting against the Assad regime, but it is also fighting against the 'Islamic State'," he said. "This organization is the Free Syrian Army, which has the support of democratic countries in the West."
The lawyer claims that if his client is telling the truth, there are no grounds for charging him with joining a terrorist organization, a charge for which he may be jailed for 10 to 18 years.
A day before the arrest, family and relatives of Borchashvili gathered in Pankisi Gorge, his hometown in the northeast of Georgia, demanding information about his location. They said they knew Borchashvili went to Turkey to work. Then he felt ill and came back to Georgia the previous day, but he was detained at the border by Georgian border guards and sent back to Turkey.
"When he arrived at the airport [in Turkey], police gave him an ultimatum, that he would either be arrested or sent back to Georgia," his mother Dali Borchashvili said during a demonstration.
Turkish law enforcers sent him back to Georgia again, where he was arrested and taken for questioning, but he due to his injury he was brought to hospital.