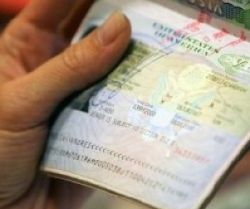 TBILISI, DFWatch–The European Union once again failed to reach an agreement on abolishing visas for Georgian citizens who want to enter the Schengen area.
No decisions were made regarding visa liberalization for Georgia, Kosovo, Turkey, and Ukraine during the meeting of EU ministers in the justice and home affairs council on 10 June.
Klaas Dijkhoff, the state secretary of security and justice and minister of migration of the Netherlands, which is currently assuming presidency in the EU, said in the beginning of the meeting that he didn't expect decisions to be made due to objections from 'a few countries'.
'Today I don't think we'll have a decision, this became clear this week, I think we have to accept that a few countries are still having some objections and they will have the opportunity today to share with all the colleagues what they are and how we can resolve them', Mr Dijkhoff said.
Germany was earlier reported to be the main opponent in the visa waiver process, with a vocal support from France and Belgium.