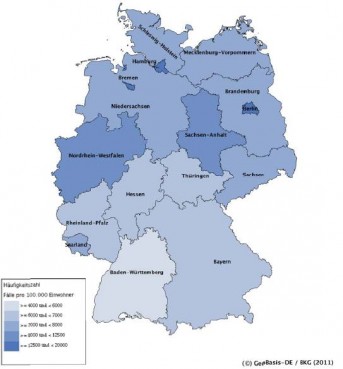 TBILISI, DFWatch–Germany on Wednesday again blocked visa-free access to the Schengen area for Georgian citizens, with reference to police reports that Georgian asylum seekers play an important role in organizing burglaries.
After the decision became known, Georgian President Giorgi Margvelashvili, who was in Brussels to lobby for visa liberalization in connection with the meeting of ambassadors from EU countries, said crime statistics show that Georgians are second last on the list of crimes committed by foreigners.
Going by the regular police figures, the president may appear to be right. According to crime statistics published by the German police, 1.3 percent out of 555,820 crimes committed in Germany in 2015 were committed by Georgian citizens. Georgian citizens were involved in only 455 burglaries, out of total 167.136 number of burglaries. They were involved in 6.4 percent of a total 7,096 crimes committed by migrants last year. A larger share of burglaries in Germany in 2015 were committed by citizens of Serbia, Romania, Turkey, Albania and Poland than by Georgians.
While the statistic for violent crimes is low among Georgians, robberies, thefts, and drug offences are more common. Apart from immigration offences, theft accounted for almost 60% of all crimes committed by Georgian asylum seekers in Germany.
However, a new report presented by Interior Minister Thomas de Maizière specifically about crimes related to immigrants singles out Georgians as one of the most prominent groups. Immigrants from Algeria, Georgia, Marocco, Serbia and Tunisia are overrepresented as suspects in the new figures, writes Die Welt. de Maizière asked the German federal criminal police BKA to provide the figures last October, in order to prevent rumors of a rise in immigrant crime. At that time, data from only 12 out of the 16 provinces were available, but the new figures cover all of the country.
The worry in Germany is that organized crime groups are taking advantage of the chaos brought on by the migrant crisis and sending thieves who pose as asylum seekers. Parliament member Armin Schuster from the ruling CDU party offered more depth to the problem that has caused the Germans to fear Georgian burglars with visa-free access. The former police officer said he believes that Georgian gangs are a driving force in the problem of burglaries in Germany. He told German magazine Bild that 'Georgian asylum seekers are more heavily involved in organized crime than any other group of foreigners. A visa-free regime would only further solidify this crime situation.'
According to EU Observer, the German position is that Tbilisi must do something to help in combating the problem, but the speaker of the Georgian parliament, who is currently visiting Germany, claimed that the crime issue is not a precondition for Georgia getting the long sought-after visa waiver program with the Schengen area.
"When it comes to crime, people coming [to Germany] from Georgia have been committing such acts two years ago, two months ago, and we are not guaranteed that they won't do it again after two months. This issue isn't any precondition from any side. I had high level meetings in Germany, a country where this topic has been an issue more than any other place. No-one asks for lowering 0.5% to 0.2% and then talk about visa. This doesn't work that way. We have to work on that in a parallel way. This is an issue about our prestige, our honor, that Georgians should create a good reputation abroad and not shame us. But this is a separate issue," Davit Usupashvili told Interpressnews.