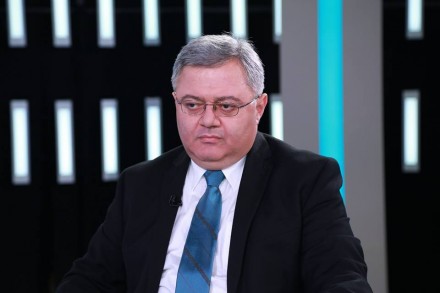 TBILISI, DFWatch–The speaker of Georgia's parliament says people must know the truth about the suspected Istanbul bombing mastermind and his role in a mysterious shooting incident in Georgia in 2012.
The same day, a member of government and a parliamentarian claimed the organizer of the terrorist attack at Ataturk airport has been an agent for the former Georgian government under President Mikheil Saakashvili.
The public should know if there are any secrets about Akhmed Chatayev and the Lapankuri special operation 'considering the national interest', Speaker of Parliament Davit Usupashvili said Monday.
Journalists asked him on Monday whether it was a mistake to release Chatayev, now a member of ISIS, from a Tbilisi prison in December 2012, where he had been held in pre-trial detention following the Lapankuri shooting.
Usupashvili said that if some of the authorities back then didn't reveal the details of the case for fear of harming Georgia, it would be better to reveal all information now.
"It is better to say everything now and that we can learn the truth of what happened in this case," he said, adding that it would be better than having lots of questions, especially from the foreign press.
"Maybe there is nothing to investigate, but still it would be better if the Lapankuri investigation was finally over."
Usupashvili believes that it is still better to learn the truth even if it is harmful.
Saturday evening head of parliament's defense and security committee MP Irakli Sesiashvili said that Chatayev used to be a security agent of the previous government and that he took orders from President Mikheil Saakashvili though Deputy Interior Minister Giorgi Lortkipanidze.
Akhmed Chatayev (28) is of Chechen origins and reported in Turkish press to have organized the terrorist attack at Ataturk airport in Istanbul on June 28, though officials in Ankara have not yet confirmed this. Chatayev was arrested in August 2012 during a shooting between militants and police in Lapankuri in northeastern Georgia, near the border with the Dagestani section of the Russian border.
He was charged with illegally storing and keeping a weapon, but released after the change of government and the charges were dropped due to lack of evidence.
Ex-President Saakashvili claimed in a post on his Facebook page that the new government considered Chatayev a political prisoner.