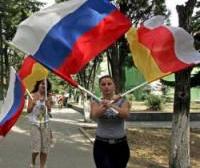 Tbilisi, DFWatch – The de facto leadership of South Ossetia issued a statement saying that the referendum on joining Russia would be conducted in 2017, instead of, as previously planned, in August this year at latest.
'Taking into account the long-term interest of the South Ossetian people and trying to ensure stability of the socio-political situation in the Republic of South Ossetia, we jointly declare our support for the decision of the Political Council under the President of the Republic of South Ossetia on 26 May 2016 on the feasibility of holding a referendum on joining the Russian Federation by the Republic of South Ossetia in 2017, after the presidential election in the Republic of South Ossetia', the statement issued by the president of South Ossetia, Leonid Tybylty (better known by the Russian version of his last name Tibilov), and the speaker of parliament, Anatoliy Bibylty (Bibilov) reads.
Earlier this year, Moscow sent mixed signals to the government in Tskhinvali, which were interpreted as Russia's lack of willingness to formally incorporate, or annex, South Ossetia into its territory.
Georgia, which considers South Ossetia a part of its territory under Russian occupation and considers the de facto South Ossetian authorities as illegitimate, has repeatedly expressed its discontent with the process. The Deputy Spokesperson of U.S. Department of State, Mark Toner, reaffirmed the American support for Georgia's claim to the territory.
'The United States opposes the referendum on the accession of so-called South Ossetia to the Russian Federation. Our position on Georgia is the following: we support the territorial integrity and sovereignty of Georgia, which includes South Ossetia. So, we do not recognize any attempt of so-called South Ossetia to secede or demand sovereignty', Mr Toner stated.
The Chairman of the Foreign Affairs Committee of the State Duma, Aleksey Pushkov, wrote on his Twitter account that the opinion of the U.S. was irrelevant.
'The U.S. doesn't support the idea of a referendum on South Ossetia joining Russia. It's another case when the American opinion is of no importance', Mr Pushkov wrote.