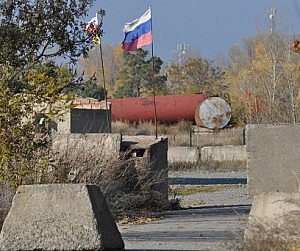 TBILISI, DFWatch–Authorities in the breakaway region South Ossetia have increased the fines for 'illegal crossing of the state border' by two and a half times; from 2,000 (USD 30) to 5,000 Russian rubles (USD 75).
This change in the size of fines is one of the reasons for why it took longer time than usual for two Georgians to be released after being detained for the violating the de facto border, Radio Liberty reports.
Two residents of Georgian villages adjacent to the conflict line were released by Tskhinvali regime on Thursday allegedly after paying the fine. The Russian border guards detained two residents of Okami on October 2 in the forests near their homes while they were out collecting firewood.
In many places the borderline is not clearly marked, which renders locals vulnerable to detention by the Russian FSB soldiers that are patrolling the perimeter of the breakaway republic.The Ossetian side uses the old administrative borderline from the Soviet Union. At talks held regularly in Geneva, Ossetian negotiators have suggested working together to agree about where the demarcation line runs.