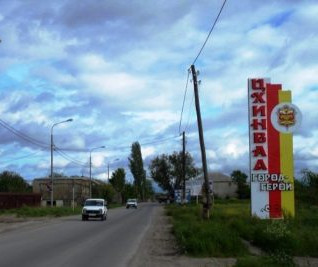 TBILISI, DFWatch–South Ossetia's population is dwindling, and the de facto authorities will have to do something to address the problem, local media report.
In 2017, there were born 513 babies in the breakaway region, which has experienced a 20% drop in its birth rate over the last five years.
There has already been a drastic shift in the demographic makeup of the region due to the war in 2008, which cut the population from over 82,000 to only around 50,000 as thousands of Georgians were ethnically cleansed.
From a mixed pre-war population, the share of ethnic Georgians dropped from 27% to 7% because of the ethnic cleansing. In the last population census, in 1989, their share was 29%.
But now, even the number of ethnic Ossetians is decreasing and is today 26% lower than it was during Soviet times, according to statistical data published by Tskhinvali. In 1989, the year when the last Soviet census was carried out, 65,232 ethnic Ossetians lived in South Ossetia's Autonomous District but in 2015 they numbered 48,146.
The de facto ministry of health's demographic data for the last five years shows that birth rate has been constantly diminishing.
In 2013, 557 persons died and 641 were born;
In 2014, 485 died and 638 were born;
In 2015, 522 died and 560 were born;
In 2016, 509 died and 531 were born;
In 2017, 507 died and 513 born.
These figures also include babies born in North Ossetia, as many mothers in South Ossetia prefer to give birth in Vladikavkaz because of the higher standard of medical services.
It should be noted that even after the ethnic cleansing of Georgians, which took place in the entire region except the Akhalgori district, the percentage share of ethnic Ossetians has shrunk.
In 1989 during the Soviet Union, the entire population of South Ossetia's Autonomous District was 98,527, among them ethnic Ossetians were 65,232 (66%) and ethnic Georgians 28,544 (29%).
According to Tskhinvali's statistical service, before the August war in in 2008, the population of South Ossetia was about 82,500. Including about 68,000 in the Tskhinvali regime controlled territory and approximately 14,000 in the Georgian controlled territory. 58,000 (70%) were ethnic Ossetians and 22,500 (27%) ethnic Georgians.
The data for 2012, which were published after the August 2008 war, indicates that there were a total of 51,600 people living in the region at that time, including 46,000 (89%) ethnic Ossetians and 4,600 (9%) Georgians.
The data published by Tskhinvali in 2015 are even more alarming. The population at that time was 53,532; Among them, ethnic Ossetians numbered 48,146 (90%), while the share of ethnic Georgians had diminished to only 3,966 (7%).
Many people, both Ossetians and Georgians as well as other ethnicities, left the region during and immediately after the 1990-92 conflict and mainly moved either to Tbilisi and Gori or to the capital of North Ossetia, Vladikavkaz.