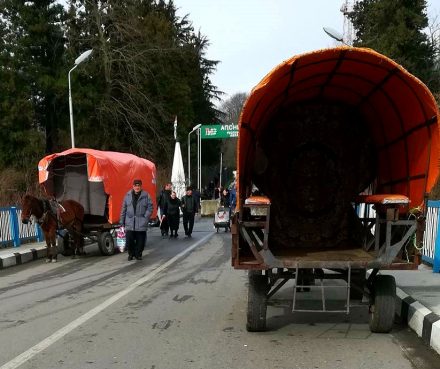 GALI, DFWatch–Four-wheel horse carts ('tachkas') are still the main means of transport for crossing the Enguri Bridge, which separates breakaway Abkhazia from Georgia proper. However, recently three 'marshrutkas' have started competing for this profitable business, sparking outrage among cart owners.
They complain that income has been constantly shrinking, which will probably eventually force them to give up altogether.
The three mini-buses that entered the competition, 'tachka' owners insist, belong to Dato Shengelia, a local strongman and businessman. He is the notorious former commander of the 'Forest Brothers', a militia in the 1990s.
A one way trip by 'tachka' costs 1 lari per person and the same amount for a large piece of luggage. Taking a 'marshrutka' is more expensive; it costs two laris for the traveler and . Nominally the luggage is free of charge. However, passengers say drivers often charge more for extra luggage.
"We had a lot of customers before, and it brought us a good income, but after they introduced 'marshrutkas', the number of passengers has decreased and will probably soon drop to zero," one 'tachka' owner told DFWatch.
"Our price is relatively low, but 'tachkas' are open and, especially in cold or rainy weather, people prefer the 'marshrutkas', while if there is nice weather, many people cross the bridge on foot."
His colleagues say minibus drivers are hired and receive 60 lari as a flat daily rate. The minibuses themselves are registered both in Georgia proper and in Abkhazia, because Sokhumi doesn't allow vehicles with Georgian number plates in.
Forest Brothers was active in guerilla warfare in the wake of the 1992-93 war in Abkhazia, and remained active until the early 2000s. Its geographic area of activity was mainly confined to the Gali district and main focus was to resist the mass cleansing of ethnic Georgians and retaliatory raid against persons who were involved in mass murders. However, at the same time, there were numerous accounts of criminal activities by the Forest Brothers, particularly kidnapping for ransom and smuggling of goods in and out of Abkhazia.
In 2004, following the Rose Revolution, Dato Shengelia and the other members of his group were forced to give up their guerilla activity by the Saakashvili government. He was detained in 2006 for drug-related crimes and sentenced to 24 years in jail.
Following his release in 2011 in what it appears to have been a covert deal with the government, Shengelia became involved in business activities.