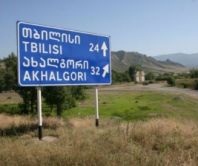 AKHALGORI, DFWatch–South Ossetia is creating a new body that will examine whether its 'nationals' comply with the procedures for obtaining 'citizenship' of the breakaway region.
A civic activist from Akhalgori might become the first victim of the novelty.
In practice, it will mean that ethnic Georgians living in the region – almost all of whom possess both Georgian and South Ossetian passports – might be deprived of their South Ossetian passports, and hence stripped of most fundamental rights, and may in some cases even may face criminal charges.
Tamar Mearakishvili, an Akhalgori activist who has been continuously persecuted, and even briefly arrested in August of 2017, was charged with forging official documentation, Ekhokavkaza reported on Wednesday. The de facto law enforcers found two passports belonging to her, a South Ossetian and a Georgian.
She doesn't deny being in possession of two passports, but insists that the authorities are persecuting her because of her civic activism; apparently a case of selective justice. While hundreds of locals, both ethnic Ossetians and Georgians, also possess two passports, law enforcers have singled her out. Even some officials at de facto authorities are in similar positions, even have two different – Georgian and Ossetian style – surnames in the passports, but no actions have ever been carried out against them.
South Ossetian legislation doesn't prohibit dual citizenship, but in order to obtain passports issued in Tskhinvali, Akhalgori inhabitants have to hand in their Georgian passport. Akhalgori is the only administrative entity in the breakaway republic which is inhabited mostly by ethnic Georgians. Those who have Russian citizenship face no such restrictions , which was demonstrated at Sunday's elections for president of the Russian Federation, where 18,000 locals, including de facto president Anatoly Bibilov, voted with Vladimir Putin getting 93 percent of votes.
Until now, Akhalgori residents have been able to bypass this restriction by obtaining a second Georgian passport, under pretence of having lost the first one. They could then hand in one of their Georgian passports in South Ossetia in order to obtain 'citizenship' there. When people did this, the de facto authorities used to turn a blind eye.