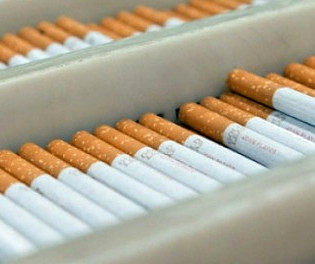 TBILISI, DFWatch–A blanket ban on smoking indoors came into power in Georgia on Tuesday. People caught smoking on public transport now risk a fine of 50 lari (20 USD) or twice as much for repeated violations.
Smoking is now banned inside all kinds of buildings, except private homes and in the penitentiary system.
Furthermore, people may no longer light up aboard all types of public transport, except taxis and 'cutters' (boats); in educational facilities and facilities for children and youth; inside medical and pharmaceutical facilities and elsewhere on their premises.
Most poignant for Georgian smokers will be a ban in cafes and restaurants, including pubs and the popular 'khinkali' restaurants. An exception is made for cigar bars, where smoking of cigars, not cigarettes, is allowed. But the license to open a cigar bar costs 15,000 lari ($6,000).
Sport arenas will also become no-smoking areas by 2020.
Establishments that violate the smoking ban will be fined 500 lari (USD 200) the first time and 1,000 lari in case of are further violations.
Although the ban is enforced with tough fines for proprietors, the fines for individuals who break the rules are not so tough. The fine for violating the ban on smoking aboard public transport is 50 laris the first time and 100 laris for repeated offenses. Drivers will also be fined if they violate the ban.
The ban also applies to e-cigarettes.
The same rules apply to all other kinds of facilities servicing the public, such as parlors, stores and markets, as well as private firms and warehouses. In such places, the smoking section must not exceed 5 percent of the overall space.
The bill was prepared by a handful of non-governmental organizations and initiated in the parliament by Guguli Maghradze from Georgian Dream.