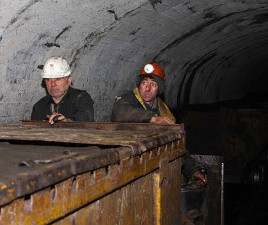 TBILISI, DFWatch–Six miners died when a coal mine collapsed in Tkibuli, Georgia Thursday morning. A further three were injured and brought to hospital, where they remained at press time.
The immediate cause of the incident is still to be determined. According to a statement by the Ministry of Internal Affairs, 'a wall in the tunnels underwent deformation, which caused the ceiling to collapse.'
All the dead bodies have been recovered.
The president extended his condolences to the families of the deceased in his first comments.
"In this difficult moment, I express my solidarity with the members and relatives of the families [of the dead and injured miners]. Today's disaster in Tkibuli demonstrates that the conditions of labor safety are terrible and unacceptable, and it is impossible for the state and society to get used to such a situation in the workplace," President Giorgi Margvelashvili said.
Prime Minister Giorgi Kvirikashvili also expressed his condolences but, unlike Margvelashvili, didn't mention the root cause of the tragedy.
Indeed, the death of six miners is just the last in a series of tragedies in Georgia's mines. Many miners, trade unions and activists have criticized the lax conditions in terms of workers' safety in Tkibuli coal mines.
In May, 2017 four miners died in a Tkibuli mine, which led to protests in Tbilisi.
Only in the last 15 months, 11 people have been killed in Tkibuli mines, according to the Georgian Trade Union Confederation (GTUC).