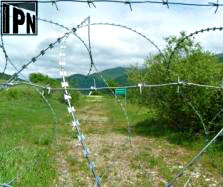 TBILISI, DFWatch–Russian soldiers have detained one more Georgian citizen and taken him to Tskhinvali, the capital of the de facto breakaway region South Ossetia.
Witnesses claim that the detainee, Guram Gigineishvili, 49, was working in the cornfield in the village Bershueti when he was detained by Russian soldiers without any explanation. The soldiers took him to the other side of the so-called administrative border, but his exact location is not yet known.
The witnesses say Gigineishvili was taken by his own car. He was collecting the harvest in his own cornfield, when Russian soldiers sneaked up on him.
Gori Police Department is already informed about the case and are working to determine where he was taken.
This is the second detention this week. The Georgian government is in negotiations about getting its citizens returned.