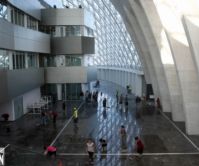 TBILISI, DFWatch–A physical scuffle broke out in the Georgian parliament on Wednesday.
Soso Jachvliani, MP from the Georgian Dream coalition, scolded Giorgi Baramidze from the National Movement.
His microphone was switched off. This lead to a physical confrontation among MPs.
Soso Jachvliani was talking about the necessity of questioning Giorgi Baramidze, who earlier the same day said it is important that the Georgian parliament condemns the events that are taking place in Ukraine.
Jachvliani said he was surprised when the UNM demands to condemn the events in Ukraine all the while the dispersal on May 26, 2011, and on November 7, 2007, were carried out by them.
"I call on the Interior Minister to frequently conduct raids to protect the National Movement members from their victims, who might use your symbols – broomsticks and batons against them," he said, with reference to the scandal in 2012 surrounding a handful of videos showing grave mistreatment of prisoners, including prisoners being raped with broomsticks.
Jachvliani called on law enforcers to question Giorgi Baramidze and investigate all the details.
Jachvliani also drew attention to a special operation in Mestia, Svaneti, in the northern part of Georgia, carried out in 2004, when the Aprasidze family was detained in an operation headed by Baramidze, who was then interior minister.
During the operation, a brother and a father from the Aprasidze family were killed, while two detainees were sentenced to 19 and 17 years in jail. They were released February 28, 2013, by the new government as part of a mass amnesty.
The Aprasidzes were detained in relation with the abduction and murder of the brother of Energy Minister Kakhi Kaladze, a former AC Milan player.
Jachvliani, who is from Svaneti, claims that the goal of the operation carried out by Baramidze and the UNM was to force Georgians to hate Svaneti and Svanetians.
"This is Baramidze who admitted how he attacked the Aprasidze family with 1 500 soldiers and 12 helicopters and killed the uncle and grandfather in front of their children, they let all Georgia know that they had discovered the tombs of the kidnapped the brother of Kaladze and other people," he said.
After the scuffle, Jachvliani said Baramidze deserved more, but he apologized for what happened at parliament.
The National Movement announced a boycott of parliament on Wednesday and left the hall. Before leaving, MP Goka Baramidze said the reason was Jachvliani's insult against Baramidze.
"We had to discuss the codex of the local government, but unfortunately, the majority has chosen to create a completely different situation in the hall," he said, adding that it makes no sense to have a discussion under such conditions.
Speaker of Parliament Davit Usupashvili said after the UNM left that it is not correct when MPs give the opposition a reason to leave while the parliament has to review a budget bill.
Usupashvili said he will assess what happened in parliament only after he has gotten more familiar with the details, but meanwhile, parliament will continue discussing important issues.
"I am also sure we will adopt a statement about Ukraine," he said, addressing MPs from the coalition that their goal is not to have a confrontation with the UNM, but to manage the country and move it forward. He said parliament is continuing to function.
Baramidze said today's incident was a provocation.
"It is not right when a person tries to confuse himself with Svaneti, or confuse criminal Aprasidzes with Svaneti, Aprasidzes with whom everybody remember what situation was in Svaneti, how terrorized were people," Baramidze said, adding that if law enforcement bodies have questions about the the operation in Svaneti he is ready to answer.
He accused Jachvliani of defamation.
"When I decided to be interior minister and fight against crime, the mafia world, I knew that it was dangerous, but I never stepped back," he said, adding that he won't step back but continue his fight forwad.