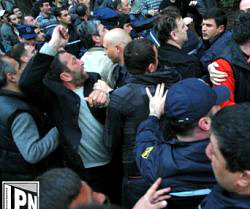 TBILISI, DFWatch–President Saakashvili's National Movement had a tough weekend with both party conferences interrupted by demonstrators.
After being greeted by an angry hoe-wielding crowd in Zugdidi Saturday, the UNM gathered in Batumi Sunday, only to see protesters again coalescing outside their conference.
The fifth primary to select a presidential candidate was held at Hotel Sheraton in Batumi. One of two persons who were detained during the protest outside was Merab Gorgodze, a registered presidential candidate in the October 27 election and former political prisoner.
The other detainee was Merab Ghoghoberidze, who attempted to break through the police cordon at the hotel. There were gathered many people at the hotel including refugees from Georgia's breakaway Abkhazia and eco-migrants. Some of them threw eggs at the UNM members, which caused clashes between police and protesters.
The City Court in Zugdidi, where the fourth conference was held on Saturday, fined 12 detainees USD 60 and released them. All were charged for petty hooliganism. Two detainees on Saturday were charged with the same but released.
Davit Bakradze, leader of the parliamentary opposition and former speaker of parliament, secured a fifth straight win in the Batumi primary. He received 116 votes out of 158.
UNM will hold the sixth and last conference in Tbilisi on July 27.