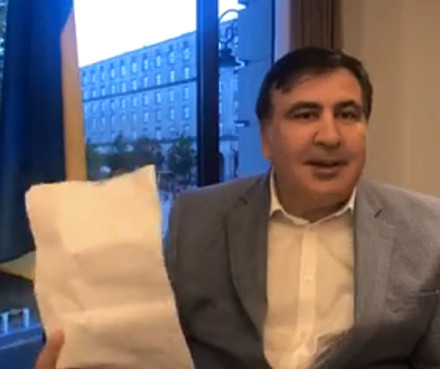 TBILISI, DFWatch–The Georgian-born former governor of Ukraine's Odessa region Mikheil Saakashvili announced Wednesday the time and date of his return to Ukraine despite being stripped of that country's citizenship.
Saakashvili, who recently launched a new political party in Ukraine to try to enter the Verkhovna Rada, was stripped of his Ukrainian citizenship in late July. His native Georgia, of which he was president from 2004 to 2013, revoked his citizenship in 2015.
Speaking live from Warsaw via the social networking site Facebook, Saakashvili proclaimed that he will cross the border from Poland to Ukraine on September 10, at the Korczowa-Krakovets border crossing.
Ukraine's chief prosecutor's office has warned that the ex-governor will be sanctioned should he attempt to enter Ukraine without a visa.
"Any actions involving […] an illegal border crossing give absolute legal grounds for bringing [Saakashvili] to administrative sanctions," Deputy Prosecutor General Eugene Enin wrote on Facebook earlier, quoted by Xinhua.
But in his online press conference, held in the Ukrainian language, the once popular Georgian reformer and leader of the 2003 Rose Revolution called on his supporters to facilitate his return and offered a hotline that they can call to get appropriate instructions. He asked his supporters to establish a human corridor to help him cross the border.