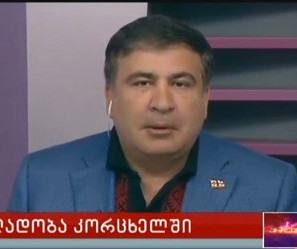 TBILISI, DFWatch–Former Georgian President Mikheil Saakashvil has mocked his main opponent former Prime Minister Bidzina Ivanishvili, saying he was destined for defeat in the October 8 election.
Saakashvili, who is governor of Odessa in Ukraine, was appearing on Facebook Live for a Q&A with voters Monday night.
He said he will return to Georgia after the election and at the border there will be lines of people welcoming him, instead of him being arrested, as the government has threatened.
"After October 8, we will say farewell to Bidzina Ivanishvili somewhere in a higher education facility at the government's expense, where he will be taught the difference between Cambodia and Nicaragua, Pol Pot and Stalin," he said, while answering questions of during the live.
Ivanishvili needs education, the ex-president said.
"This person doesn't even like educated people, and that's his biggest problem," he said.
Recently, Saakashvili has spoken more frequently about his possible return to Georgia. The response from the government is that he will be arrested as soon as he crosses the border. Saakashvili is charged in several criminal cases. The charges include abuse of official powers, embezzlement, involvement in a murder and ordering the dispersal of a peaceful rally on May 26, 2011.