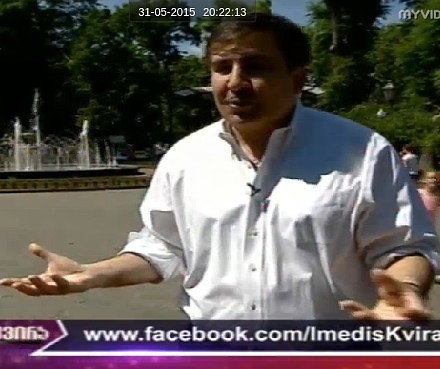 TBILISI, DFWatch–Mikheil Saakashvili, the former Georgian president and current governor of Odessa, told a Georgian TV channel on Sunday that he is confident of victory for his political party in the parliamentary election in October, and afterward he will return to his home country.
Saakashvili told Rustavi 2 that he doesn't plan to abandon his plans in Ukraine, but he is also sure that the National Movement will win the election in Georgia and he will return, helping the party after its victory.
Saakashvili is currently wanted by Georgian authorities for several crimes and will be arrested as soon as he walks across the border control.
In the interview, he didn't directly mention the criminal proceedings against him, but he mentioned an idea about how to reform the court system. His plan is to invite judges from the United Kingdom to provide an unbiased system, as he thinks no-one would be able to say that new judges would bring 'their own people' into the system.
Addressing the political situation in Georgia, Saakashvili said there are only two forces. One is associated with businessman Bidzina Ivanishvili, whom he calls a 'Russian oligarch', and the other one is related to himself.
"The rest are just imitation, money laundering, corruption," he said, adding that he has no doubt his party will be victorious.
Saakashvili said he doesn't aspire to higher posts in Georgia, but this is because people believe there are two forces, and the choice has to be made between the two: "Either me or Russian oligarch" and he feels responsible.
"I have to be better than I have ever been, more motivated and oriented toward the future," he said, adding that this doesn't mean rejecting the mission in Ukraine, as he sees that Ukraine and Georgia have a common future.
Saakashvili once again blamed former Prime Minister Bidzina Ivanishvili for a series of sex-tapes depicting known politicians and apparently drawn from an archive of compromising surveillance videos amassed by intelligence services during his own presidency.
The former president also criticized the halt in plans to build a new city from scratch in a desolate marsh land near the Black Sea coast. This was one of the ex-president's last grand ideas and involved building an entire city of half a million people called Lazika, to be located near the breakaway territory Abkhazia.
He said that the only revenge he plans to after arriving to Georgia is to reclaim the technical university in Batumi, which the government sold last year.
"This is all. We will begin the rest from the beginning. He [Ivanishvili] won't be able to fabricate the election," he said. "Ivanishvili  is disposable, like a scarlet fever, which a person can have only once."