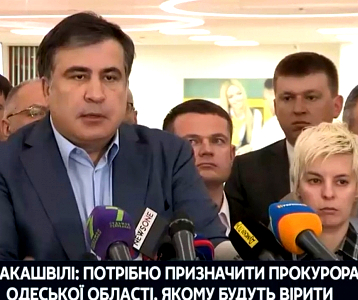 Tbilisi, DFWatch – Georgia's former president Mikheil Saakashvili, who recently resigned as Odessa governor and is set to lead an opposition party, believes that Ukraine's President Petro Poroshenko won't honour Tbilisi's request to extradite him in the homeland, where he faces criminal charges.
In his interview with Ukrainian 5th Channel Saakashvili said that, generally, he'd got 'good' impression on Poroshenko.
"From my point of view he won't do such a thing. Only imagine theoretically that he will extradite me to Georgia. Even, if it happens, I have 600 thousands supporters there (in Georgia) and I will be free exactly in a week,' Saakashvili said.
Last year, the Ukraine's Prosecutor-General's Office rejected the request of Georgia to extradite Saakashvili.
"Saakashvili's extradition would be against the 1950 Convention for the Protection of Human Rights and Fundamental Freedoms," the Prosecutor-General's Office said.
Saakashvili, who served as Georgia's president from 2004 to 2013, faces four criminal charges and is wanted by the authorities in Georgia. The charges include exceeding power by ordering brutal dispersal of an anti-government rally and raiding of an opposition TV Imedi on November 7, 2007; embezzlement of over 8 million GEL public funds; conspiring to obstruct justice in high-profile murder case of the young bank employee; and, ordering physical punishment of an opposition MP after the latter's interview was published in the newspaper.
Mikheil Saakashvili, who was stripped Georgian citizenship in 2015, denies all charges insisting that they are politically motivated.
Recently Saakashvili announced about establishing a new opposition political party in Ukraine and demanded snap election.